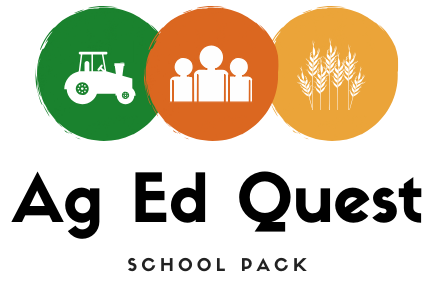 Partners in Ag is proud to be joining forces with the Wimmera Machinery Field Days to launch a new resource kit for schools to assist in their excursions to one of country Australia's largest agricultural and agribusiness trade shows. The Ag Ed Quest provides a fun, educational and engaging pack of information for schools to ensure students and teachers make the most of their time at the 2020 Wimmera Machinery Fields Days (Tuesday 3 – Thursday 5 March 2020).
Two packs are available and designed specifically for Primary or Secondary students. The Ag Ed Quest will provide the following:
A structured story-based tour of the Field Days ('A Year on our Farm') – Primary
A fact-finding quest (Amazing Race style) for students to tour the Field Days – Secondary
An opportunity to win fantastic prizes
A safe and central meeting place for schools
The opportunity to hear from presenters on the careers available in the agriculture industry (optional for Primary)
With increasing pressure on teachers to ensure excursions are meaningful and education-based, Partners in Ag has developed the Ag Ed Quest to reduce the workload by generating the day's program, aligning with curriculum outcomes. The Wimmera Machinery Fields Days is a great opportunity for local schools to build awareness of the agricultural environment, industry, and careers that exist in our communities.
The development of the Ag Ed Quest for students would see a targeted and engaging approach to interactions between the students and exhibitors, with students learning about everything agriculture and giving exhibitors the opportunity to showcase their products and services to the next generation. It will be designed so that students engage with exhibitors in a consistent manner rather than ad hoc approaches.
The fact-finding quest would finish at the new Pavilion with a presentation promoting the wide range of ag-related careers in the Wimmera. This provides an opportunity for students to gain a greater understanding of the broad employment opportunities within the region as well as a safe and central meeting place to conclude the excursion. By promoting a packaged resource to your school, the Wimmera Machinery Field Days Committee aims to build a relationship with you and your students and assist in coordinating the excursion from the very start. The 2020 Wimmera Machinery Field Days is FREE for primary students and their teachers to attend, and only $5 for secondary students and teachers. Pre-purchasing tickets through Partners in Ag will ensure Priority Entry on the day!
Register your interest in attending the 2020 Wimmera Machinery Field Days by completing this online form: https://form.jotform.co/93220558255861.
By registering your interest, you are not obligated to attend but allows us to identify and target key areas of interest and continue this conversation with the most appropriate staff member going forward.
If you have any questions or require further information regarding the 
Ag Ed Quest 
resource kit for the 2020 Wimmera Machinery Field Days please contact Partners in Ag's Business Development Officer Katherine Colbert on 0409 527 041 or 
admin@partnersinag.org.au
.