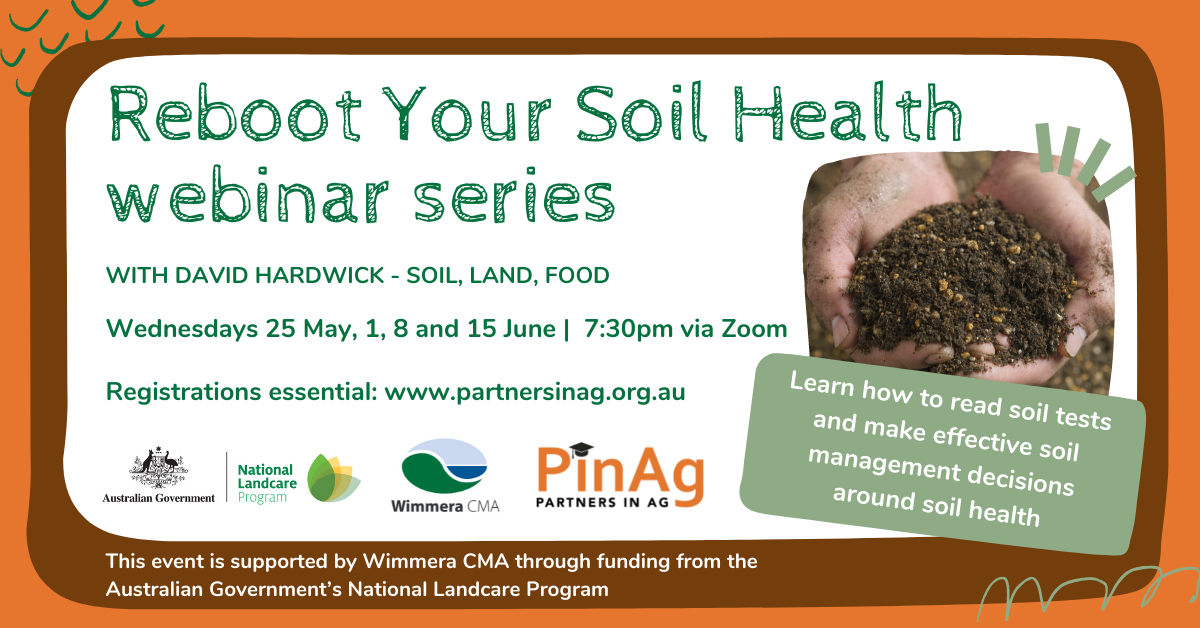 Join us for a FREE 4-part webinar series with David Hardwick from
Soil Land Food
on how to reboot your soil health.


Deepen your understanding of how soils work


Explore ways to regenerate and manage your soil's health


Build your skills and confidence to read soil tests, assess soil health in the paddock and make good soil decisions


This webinar series will deepen your understanding of how soils work and build your confidence to manage your own soils well. It is suitable for anyone on the land including graziers, dairying, cropping, horticulture and small landholders. During this webinar series you will work on your own soils and develop a plan of action to improve soil health on your place using an ecological, regenerative based approach.
What skills you will learn:


How to manage soils as a system


How to read a soil test effectively


How to assess soils in the field and with soil tests, including soil biology tests.


How to make effective soil health decisions


About the presenter:
David is an agroecologist and has over 20 years experience in rural landscapes, farming and food systems. He develops and delivers many of the extension projects for Soil Land Food across Australia.  David's passion is agroecology and empowering farmers with knowledge and skills that make a difference!Soil Land Food is an independent consultancy specialising in capacity building, training, consulting and extension for farmers, graziers and rural communities. We cover soils, regenerative and organic farming systems, composting, rural landscapes, food systems and rural change.This event is supported by Wimmera CMA through funding from the Australian Government's National Landcare Program.
Reboot Your Soil Health Webinar Series
Wednesdays – 25 May, 1, 8 and 15 June
7:30pm via Zoom
Register to receive Zoom Link here
For more information contact Katherine Colbert on 0409 527 041 or business@partnersinag.org.au